Prop 68 Funding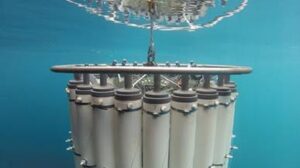 The California Ocean Protection Council (OPC) and California Sea Grant (CASG) are pleased to announce the release of a solicitation for letters of intent on monitoring, research, and synthesis projects that will enhance our understanding of ocean acidification and hypoxia on biological vulnerability.
Please see the solicitation for specific project types and priorities. There is a total of $2.2 million available for this solicitation—$1,800,949 will be provided by OPC and $400,000 from CASG. Letters of intent will be accepted via eSeaGrant until 5:00pm PT on August 30, 2021 and full proposals will be due by 5:00 p.m. PT on October 7, 2021 via eSeaGrant. Only applicants who have submitted a letter of intent may submit a full proposal.
OPC staff and CASG will hold an informational webinar to answer any questions for interested applicants on Thursday, August 5, 2021 from 2:00 – 3:00PM. To register for the webinar, please complete the Webinar Registration Form. For more information about the solicitation please see the solicitation webpage.
Coastal Resilience Solicitation is now Closed
August 7, 2020
The California Ocean Protection Council (OPC), part of the State Natural Resources Agency, is pleased to announce a new solicitation for grant proposals for projects benefitting California's ocean and coast, made possible with funding from Proposition 68. The priority issue area for this round of Proposition 68 funding is coastal resiliency and nature-based adaptation strategies to sea level rise impacts. For more details on OPC's priorities, please review our Strategic Plan.
Applicants should carefully review the OPC Proposition 68 Grant Guidelines, the Grant Proposal Solicitation and Application Instructions and Letter of Intent template.
UPDATE 10/1/2020: Due to the large volume of letters of intent received, applicants invited back for a full proposal will be notified by October 8, 2020. OPC is also increasing the maximum funding available for this solicitation from $8 million to $10 million. Thank you for understanding, please reach out to Prop68@resources.ca.gov with any questions.
UPDATE: Letters of Intent due date has been extended to 5 pm on September 21, 2020 and must be submitted online to prop68@resources.ca.gov. See the Grant Proposal Solicitation for further application instructions.
UPDATE: An informational webinar for prospective applicants was held on Friday, August 14th at 12:30 pm. View the webinar here.
OPC staff anticipate releasing additional solicitations for Prop 68 funds in 2020 and 2021. Please join the OPC email listserv to ensure receipt of future solicitation announcements.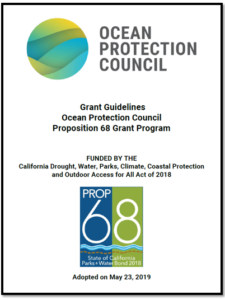 Funds from Prop 68 will be used to support the priorities of all of the OPC's program areas for the next several years. OPC adopted the Prop 68 Grant Guidelines at their May 23, 2019 meeting.  For information on the Grant Guidelines adoption, including the staff recommendation and comments received on the draft grant guidelines, please see item 5 on the OPC meeting page.
The Grant Guidelines provide an overview of the purpose of Prop 68 funds, which projects and applicants will be eligible to receive funds,  OPC's competitive and discretionary grant programs, proposed scoring criteria to assess projects, and requirements for future grantees.
OPC staff provided the Draft Grant Guidelines for public comment in January and February 2019. During the public comment period, OPC staff held workshops in Oakland, San Diego, Eureka, Salinas, and Santa Monica – in addition to an online webinar – to present the Draft Grant Guidelines to the public and receive comments. The presentation slides from the workshops and webinar are available here.
Questions about the Prop 68 Grant Guidelines and OPC's Prop 68 funding may be submitted to COPCpublic@resources.ca.gov.
Web Resources
The Grant Guidelines and Prop 68 solicitations refer to several web resources that applicants should use as they prepare their project proposals. These web resources are provided below.