OPC Equity Plan to be Considered for Adoption at the October 6 Meeting
We are excited to announce that the California Ocean Protection Council (OPC) will consider adoption of its first-ever Equity Plan at the October 6, 2022 Council meeting. The Equity Plan represents OPC's commitment to advancing equity across ocean and coastal policies and actions in California, as well as strengthening internal efforts to create a more inclusive workplace at OPC.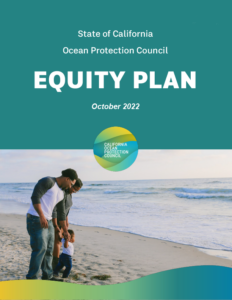 This comprehensive plan was developed through a collaborative process involving a partnership with the Better World Group (BWG), guidance from an Environmental Justice Advisory Group (EJAG) comprised of expert community leaders and advocates representative of California's diverse regions, and extensive feedback from state agency partners and the public. Additionally, OPC staff will recommend the Council approve up to $1,300,000 to establish an Environmental Justice Small Grants Program, providing direct action on a strategic priority within the OPC Equity Plan.
Council Meeting Details
The Council meeting will be held in the California Natural Resources Agency Auditorium at 715 P St., Sacramento, 95814. In-person and remote participation is available.
The proposed final Equity Plan and staff recommendation, along with the meeting agenda and registration link, are available on our meeting webpage.
We hope you will join us for this significant milestone!
For More Information
Please email Maria Rodriguez at maria.rodriguez@resources.ca.gov