Announcing the Environmental Justice Advisory Group
An important component of Ocean Protection Council's 2021-2025 Strategic Plan is advancing more equitable and comprehensive ocean and coastal science research, policies, programs and projects that reflect the connection between people, communities, and natural systems.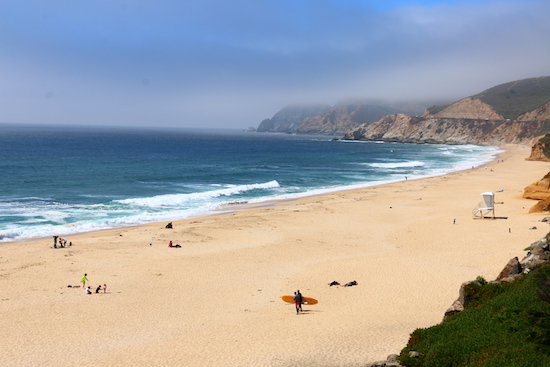 To that end, OPC staff, in collaboration with funding grantee, Better World Group, began the development of an Equity Plan, beginning with forming an Environmental Justice (EJ) Advisory Group. Comprised of community leaders and advocates representative of California's diverse regions, members will use their expertise to guide the Plan's development.
The project team and EJ Advisory Group members will solicit feedback and public comment on the draft Equity Plan when it is released this fall. Staff anticipates bringing the final proposed Plan for adoption consideration at the February 2022 Council meeting. Members of the EJ Advisory Group are listed below.
Environmental Justice Advisory Group
Statewide
Jose G. Gonzalez, Latino Outdoors
José González is an experienced and passionate speaker, artist, nature-lover, science communicator and educator who founded Latino Outdoors. Through his work and organization, he aims to build a cross-community network of nature inclusivity groups to connect people of all races, genders, orientations, socio-economic statuses and religions. In addition to Latino Outdoors, he worked in Latino outreach and education for the Tuolumne River Trust, and wrote as the main contributor for the environment desk of Latino News Daily. José holds a master's degree in natural resources and environment from University of Michigan, and a bachelor's degree from University of California – Davis. He is recipient of the National Wildlife Foundation's National Conservation Education Award, the Kenji Award and the Murie Center's Rising Leader Award. His work has been featured by Outside Magazine, The Hill, Sacramento Bee and NBC News.
Karla Garibay Garcia, Azul
Karla Garibay Garcia is a Project Manager at Azul, who is passionate about working with BIPOC communities at the intersection of environmental and social justice policy. This Spring, Karla will graduate with a Master in Environmental Science and Management with a specialization in Coastal Marine Resources Management from the Bren School at UCSB. Prior to joining Azul, Karla consulted for and lobbied on behalf of conservation, equitable access, and environmental justice nonprofits in Sacramento. Karla has experience in environmental justice, marine conservation, international climate policy, air quality, tropical deforestation, and strategic environmental communication.
Marce Gutiérrez-Graudiņš, Azul
Marce Gutiérrez-Graudiņš is the Founder and Executive Director of Azul, a San Francisco-based grassroots organization that works with Latinxs throughout the Americas to protect the ocean and coasts. Azul interweaves deep cultural fluency and grassroots organizing to secure policy outcomes that helped shape California coastal conservation policy with people at the core and continue to move justice-driven policy nationally – it launched in 2011 as the first U.S. organization devoted to elevating Latinx voices in marine conservation. Marce is also one of five women founders of the Ocean Justice Forum, launched in 2021.
An environmental justice advocate at the forefront of ocean and climate justice policy initiatives, Marce began her career in commercial fishing and aquaculture which ignited a spark in her to halt overfishing farming and fight business as usual in the depletion of fish and marine life. She works alongside community and coalition partners, as well as international ocean-climate activists, to ensure the health and safety of the ocean that sustains us and of the people in proximity to environmental injustices in their coastal and inland communities.
She serves as a member of the California Coastal Conservancy's governing board, is an expert advisory group member for the United Nation's Environment Program on Marine Litter and Microplastics and is a member of the International Union for Conservation of Nature's California Expert Assessment Group for the Green List. She is also on the advisory board of the Ocean Foundation and an advisory group co-chair for Heartwired to Love the Ocean, a project of Goodwin Simons Strategic Research and Wonder: Strategies for Good.
Marce is also an award-winning advocate for her longstanding commitment to marine conservation and community protection work, she has also delivered expert congressional testimony as a witness to the House Natural Resources Committee's Legislative Hearing on the Ocean-Based Climate Solutions Act of 2021. The Azul team, with Marce at the helm, was instrumental in the California bans on the sale of shark fins and single-use plastic bags. Her thought leadership is visible from local to global-level panels and summits to the opinion and editorial pages of publications including the Washington Post to the UN and Azul's report, Neglected: Environmental Justice Impacts of Plastic Pollution.
A native of Tijuana, Mexico, Marce now makes Southern California home with her family.
North Coast
Rhiannon Lewis-Stephenson, Environmental Protection Information Center (EPIC)
Rhiannon Lewis-Stephenson is a communications and outreach coordinator for the Environmental Protection Information Center (EPIC) in Arcata, CA. In this role, she works collaboratively with community members, agencies, and other organizations to protect important habitats and their inhabitants on the North Coast. Rhiannon firmly believes that everyone should be able to have access to nature and is focused on creating a sustainable and equitable future that values diverse human and ecological communities.
San Francisco Bay and Delta
Michelle Pierce, Bayview Hunters Point Community Advocates
Michelle Pierce, Executive Director, has 20 years of experience working in sustainability and social justice. She has professional experience and training in commercial toxics reduction and business sustainability, including managing several projects with the San Francisco Department of the Environment. She is particularly adept at cultural competency and policy design, both of which were nurtured and polished while completing the Global Partners MBA Program. She has an extensive history in environmental justice and activism in Bayview-Hunters Point, and currently serves on task forces and advisory committees for the City's Board of Supervisors and the SF Public Utilities Commission.
Paige Tengeluk, Public Health Advocates
Paige Tengeluk (she/her) was born and raised in Saipan and identifies as Pacific Islander: Palauan. Paige is passionate about decolonizing our lands, cultures, and lifestyles because she is tired of watching Indigenous people and lands being destroyed by capitalism. She has witnessed the effects of climate and environmental racism first hand—from seeing the effects of warming waters on Saipan's traditional food supply; to watching as one of the strongest El Nino events in history that hit Palau in 2016; to learning how her current home in Modesto has been exploited and harmed by the oil and agro-business industries.
A graduate of Modesto Jr. College and San Francisco State University, Paige is active in many environmental justice organizations including: San Joaquin Valley Environmental Justice Steering Committee, Rise Stockton Coalition, CA Pan-Ethnic Health Network's (CPEHN) Having Our Say Coalition, the Asian Pacific Islander Coalition, and she was selected as a fellow for the 2021 California Ocean & Climate Justice Fellowship.
Monterey Bay/ Central Coast
ileana Brunetti, Santa Cruz Community Ventures
ileana Ortega Brunetti has worked with rural Latino communities in Santa Cruz and Monterey Counties for over 15 years. She has extensive cross-sector experience including marine conservation, education, and economic inclusivity. She is a life-long resident of the North Central Coast, and represents the Monterey Bay area.
Santa Barbara/ Central Coast
Teresa Romero, Coastal Band of Chumash
Teresa Romero is an enrolled member of the Coastal Band of Chumash, serves as the Environmental Director for the Santa Ynez Band of Chumash Indians, is a member Syuxtun Plant Collective, a traditional plant collective focusing on tending, gathering and preparation of traditional plants. Teresa has served on the MPA Statewide Leadership Team as a Tribal Representative since 2019. Teresa has worked for over 20 years assisting Tribal Communities on projects, such as acquiring lands for the Kashia Band of Pomo Indians, protecting Treaty Rights (Little River Band of Ottawa Indians) and preserving traditional cultural knowledge for her Chumash community. Teresa has deep ties to her traditional homelands and the ocean.
Los Angeles/ South Coast
Carlos Moran, Council for Watershed Health
With advanced degrees in social work, Carlos Moran's experience includes designing and implementing high impact strategies that intersect mental health, public health and environmental justice.  He regularly engages diverse range of communities to advance placed based solutions that drive large scale, multi-benefit investments in Los Angeles' most economically, environmentally and health stressed communities. Carlos also serves as adjunct faculty in the USC  Suzanne Dworak-Peck School of Social Work. where he teaches graduate courses in policy, research & program evaluation, and human behavior.
Patricia Flores Yrarrázaval, Orange County Environmental Justice
Patricia Jovel (PJ) Flores is an activist, scholar, and writer from Santa Ana, California, who has dedicated her life to organizing for a world that holds Black and Indigenous communities, communities of color, and our interconnected environments with care, respect, and dignity. Since graduating with her B.A. in Ethnic Studies from UC Berkeley in 2015, Patricia has worked in labor organizing, environmental justice, immigration law, mental health care, and education, all while continuing to advocate for the rights of incarcerated people and the defense of indigenous sacred sites, and advancing her career as a writer of fiction and poetry.
As Executive Director of Orange County Environmental Justice, Patricia leads campaigns to address environmental lead contamination, water pollution, and climate change throughout the region, by centering the voices of those most impacted by these issues, and by building bridges between local Indigenous communities and communities of color in defense of the water, land, and air that we all call home.
San Diego/ South Coast
Angela Kemsley, WILDCOAST
Angela Kemsley is the Conservation and Communication Manager of WILDCOAST. Based in San Diego, Angela manages WILDCOAST's Natural Climate Solutions program in California, leading blue carbon ecosystem restoration, carbon sequestration studies, and climate action planning. Angela is a social ecologist with a passion for connecting people with their coastal and marine spaces and getting people involved with the conservation of their natural areas.
Lesford Duncan, Outdoor Outreach
Lesford Duncan, MPH, is the Senior Director of Programs at Outdoor Outreach, an organization that, since 1999, has helped over 18,000 youth explore their world, challenge themselves, and discover what they're capable of, promoting positive youth development and resilience. Through their Leadership Program, Outdoor Outreach introduces and prepares diverse youth for career pathways in outdoor recreation, conservation, and advocacy. Lesford has a career background in developing programs, partnerships, and policies that enhance the health and resilience of children and families.
Prior to joining Outdoor Outreach, he consulted for youth development nonprofits, and worked in child welfare, cultural competency and behavioral health at the County of San Bernardino. Lesford received his B.S. in Biology from the University of Florida, and MPH in Health Policy and Leadership from Loma Linda University. He is also a Senior Fellow with the Atlantic Fellows for Health Equity, ultramarathon runner, and avid hiker and outdoorsman.
Sonia Diaz, Outdoor Outreach
Sonia Diaz is the Public Policy Manager for Outdoor Outreach, an organization that, since 1999, has helped over 18,000 youth in San Diego explore their world, challenge themselves, and discover what they're capable of, promoting positive youth development and resilience. Through their Leadership Program, Outdoor Outreach introduces and prepares diverse youth for career pathways in outdoor recreation, conservation, and advocacy. Sonia received her B.A. in Sociology from the University of Chicago and has spent over a decade in various roles working for nonprofits in the areas of policy advocacy, fundraising and grant writing, nonprofit development, volunteer recruitment, and project management.
She served as a California Senate Fellow and Legislative Aide to State Senator Sheila J. Kuehl where she staffed and analyzed bills covering environmental issues and health policy. She then went on to become the Legislative Advocate for Heal the Bay advancing legislation to protect our oceans from plastic pollution and assisted with organizing advocacy efforts during the map adoption process for the state's marine protected areas (MPAs). She is an avid hiker, ultramarathoner, and enjoys introducing others to new urban trails in the community.