Michael Esgro, Senior Biodiversity Program Manager & Tribal Liaison
Despite logging many hours at Malibu beaches tidepooling, swimming, boogie boarding and surfing, Mike Esgro thought he wanted to be a doctor. He even committed to UCLA's pre-med program for a quarter, which is how he landed in the ecology and evolutionary biology class that ultimately led him down a different path. Growing up visiting the coast near his home in Calabasas had instilled a deep passion for the ocean and a fascination for the science related to it. He left the pre-med program, graduated with a degree in biology, and "bounced around a bit," working on boats, in marine science labs, and even doing a brief stint as a farmhand and logger  as he explored what other options might abound.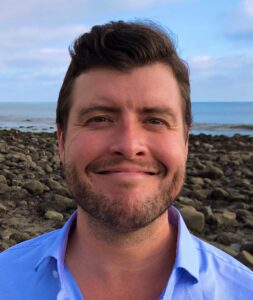 In 2018, after earning his masters degree in marine ecology and while pursuing a career in academia, Mike's career prospecting landed him in a Sea Grant fellowship at OPC in 2018. "I thought I'd hate it and want to rush back to the ivory tower," Mike said. "But I loved working with so many differentkinds of people… the experience was awesome." When a permanent position opened up at OPC, Mike applied and was hired. "I had the freedom and flexibility to help develop ourbiodiversity program," he recalled, "and was hired a year before the new strategic plan was developed." The timing allowed Mike to identify goals and create a program based on the state's most critical biodiversity needs. At the top of the list: California's kelp crisis. 
Mike is known for his expertise on – and love of – kelp. He's been interviewed numerous times, including on the popular podcast Podship Earth. This enthusiasm can be traced back to his early days in grad school at CSU Monterey Bay, where he enrolled in the university's scientific  diving program, eventually becoming a master diver and instructor. "I've had the chance to dive all over the world," Mike said. "Hawaii, Cozumel, the Red Sea… but nothing beats Point Lobos." Being immersed in the "kelp cathedral" off the crown jewel of California's State Park system was akin to a religious experience. Living in Santa Cruz, maintained a personal connection to the area, returning to dive again and again over the years, and noticed that by 2016, after a historic marine heatwave and the near-total loss of sunflower sea stars – a keystone predator in kelp forests – due to a mysterious marine disease, "Things weren't looking so good." In fact, kelp had declined precipitously since 2013, and the situation was even worse on California's north coast – more than 95 percent of the bull kelp in Mendocino and Sonoma Counties had been lost.
As a Sea Grant Fellow, Mike had the chance to get involved in discussions about kelp's decline. "I identified with this more than any other issue, had a really strong visceral connection with it, and kept hearing from tribal representatives, fellow divers, and fishermen who were concerned their ways of life were at risk." The question, he continued, was: how can we manage kelp more proactively? "We know climate change is here," Mike said. "We're seeing heat waves and diseases happen more frequently." He strongly felt the state needed to do something, to move forward out of "emergency triage mode." OPC leadership agreed, proposing pilot projects and finding opportunities for restoration and research such as a unique restoration collaboration with commercial fishermen in Fort Bragg, one of the communities hardest-hit by the kelp crisis, to remove kelp-eating purple urchins at two coves in Mendocino County. Since the launch of that project in 2020, fishermen have removed nearly 45,000 pounds of purple urchin!
The progress has inspired him. "We've seen that kelp has a lot of resilience, seen it bounce back over the past year as ocean conditions have gotten cooler – not back to where it was, but better than was last year, than the year before. That's exciting," Mike said. "There's hope." 
Mike's leadership in California's ocean biodiversity sphere includes contributing to the state's effort to protect 30 percent of its lands and coastal waters by 2030. This goal, which echoes international and national efforts, is known as "30×30" and was outlined in Governor Gavin Newsom's Executive Order N-82-20, which aims to accelerate conservation of California's lands and coastal waters through voluntary, collaborative action. 
As OPC's tribal liaison, Mike works closely with California's Tribes to ensure tribal concerns related to OPC's work are handled respectfully. "When I was a Sea Grant Fellow in the MPA program, I had the opportunity to work with tribes and learned how the Marine Life Protection Act implementation on the North Coast really kicked the door open for more meaningful consultation with tribes on the subject of marine management." The conversations resonated with him, as did the idea of incorporating Traditional Ecological Knowledge into OPC's work, and when the tribal liaison position opened up, he stepped into it. 
"I'm grateful for our tribal partners being patient," Mike said. "This is such a rewarding part of my work and to see things happen, to see OPC poised to adopt progressive strategies such as funding land return efforts is exciting. I'm really proud to be working for an administration prioritizing indigenous issues."  
 Both Mike's science background and his ongoing experience partnering with California's tribes lead to the same critical truth: Everything is connected. "I'm continually amazed by how complex the webs are," he said, "with all these different interactions between different kinds of organisms. It's easy to think of land and ocean as separate, easy to look at the ocean and think, 'It's doing fine, it's still big and blue.'" This interconnectedness includes people, an especially important factor when considering the sense of doom around climate change. "People are an essential part of the system – we have been since forever," he said. "That's a lot of responsibility, but it's also really empowering."