Marine Landings Database System
Project Summary
The Ocean Protection Council is partnering with the California Department of Fish and Wildlife (CDFW) to support the transition from management of landings data within the 15-year-old California Fisheries Information System to a new Marine Landings Data System.
Timeline: September 2016 – December 2018
Grant Amount: $694,299
Interagency Agreement: California Department of Fish and Wildlife (CDFW)
Funding Source: Proposition 84
CDFW contracted with vendors to develop the updated database system.
Background
One of California Department of Fish and Wildlife's (CDFW) mandated roles is to monitor marine commercial fishing landings (Marine Life Management Act section 7090(c)). Since 1933, CDFW has relied on paper landing receipts from the 16 different commercial fisheries landings receipt types used in California, and CDFW staff has been manually entering the data and managing it. With the cooperation and support of the Pacific States Marine Fisheries Commission, this system is undergoing an upgrade to an electronic reporting system for commercial fisheries called E-Tix. Beginning July 1, 2018, this system is available to all California commercial fishermen, and on July 1, 2019, using this system to record landings will be mandatory. Using E-Tix allows fish receivers to record both federal and state fisheries landings through one application. The transition from paper landing receipts to E-Tix provides an excellent opportunity to simultaneously update the state's fishery landings data management system. All data submitted on the E-Tix platform will be automatically transferred to CDFW's Marine Landings Data System nightly.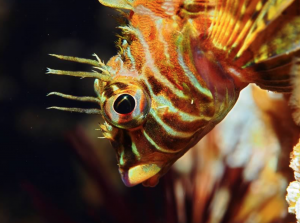 Longfin Sculpin (Bruce Sudweeks)
Relevant Links