Holly Shand, Administration and Finance Manager
Talk to Holly Shand for even a few minutes and two facts quickly emerge: Holly loves animals and she's a staunch advocate for treating people fairly. That latter trait manifests/shows in her dedication to ensuring taxpayer dollars are being used, as Holly said, "to the best of their ability and in a way people want to see their money spent." She makes sure that all finances, grants, contracts and anything else with a monetary string attached is documented "down to the penny" – an especially critical task at a state agency, where all actions ultimately are meant to serve the public and our shared natural resources.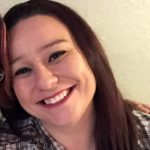 Holly honed her expertise in administration doing contract management for the California Department of Fish and Wildlife (CDFW), but it was while working in the world of auto insurance claims that she first developed her organizing and forensic skills. "I did serious auto injuries," Holly explained. "I really liked the investigative part of it – analyzing the medical bills, fitting those into the type of accident, sorting out the numbers." The experience also reinforced her commitment to establishing equitable systems whenever possible, the lack of which Holly knew a thing or two about. 
A self-described "space nerd" who wanted to be an astronaut when she grew up, Holly found herself on her own at age 16, moving from Pacifica to San Jose to Sacramento. While her dreams of soaring into space may have been replaced by a focus on day-to-day survival as a young person on her own, eventually another vast, unknown world called to her. Holly had landed her first state job – the one at CDFW – and was sent out for a training that happened to take place at Bodega Bay, home of the UC Davis-Bodega Bay Marine Laboratory. 
"I had the chance to see a black abalone," Holly recalled. "I never knew they had a foot!" The introduction to the ocean world inspired her to join it. "It was magical," she said. "There's people doing all these magical things to save animals and the planet and I wanted to be part of that." A colleague recommended Holly apply at OPC and from there, everything "just kind of fell into place." At the time, Holly didn't have much in the way of budget or accounting experience – primarily she'd handle reconciling – but the job quickly proved a perfect fit. "Now it's like I love numbers," she said. Holly also strives to make the reporting and tracking part as easy as possible for her OPC coworkers. "I usually tell people I babysit scientists," she laughed.
She also values her role as a steward of her own animals, providing a life of comfort for a slew of critters. "My second job is being a personal assistant to three dogs, two cats, three ducks and seven chickens," Holly said. The animals, for their part, seem to appreciate the care Holly lavishes on them – the unconditional love flows both ways. And although Holly expressed a preference for the furry and feathered creatures in her life, she dedicates some time to humans, too, volunteering for the Food Bank each week. This effort circles back to a fundamental belief that weaves through Holly's professional and personal life: "We're all equal, all human, and should be treated the same and with respect."