CA Co-authors Opposition Letter to Proposed Federal CZMA Rulemaking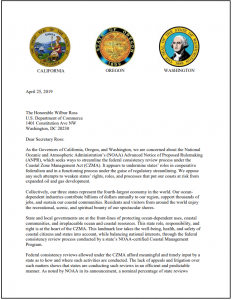 California recently co-authored a letter to U.S. Secretary of Commerce Wilbur Ross opposing proposed Federal rulemaking to streamline the Coastal Zone Management Act (CZMA) consistency review process.
The CZMA is our country's foundational coastal and marine management legislation. The proposed rulemaking appears to undermine the State's role in coastal management by shortening the time for review and limiting the scope of continued State objection to outer continental oil and gas exploration and development.
California, alongside Oregon and Washington, maintains that a "balance between national priorities and healthy coastal communities … exists because of the federal consistency process."