California Fisheries Fund
Project Summary
The California Fisheries Fund (CFF) was established in 2008 to provide a stable, accessible source of capital to support California's evolving harbor communities. Administration of the fund recently transitioned from the Environmental Defense Fund to the Northern California Community Loan Fund.
CFF is a revolving loan fund that supports sustainable commercial fisheries in California. It's mission is to help borrowers succeed in fisheries that achieve environmental conservation, improved profitability for the industry, and stability for port communities. CFF loans enable improved scientific information, enhanced stewardship of fish stocks and habitats, better fishery jobs, improved profitability, and revitalized, sustainable coastal communities.
CFF provides loans to California fishermen, seafood businesses, ports and communities to support sustainable commercial fishing. The Fund was developed in response to the lack of traditional capital available for financing improvements in fishery management, processing, and marketing that, in turn, could enhance conservation, profitability, and viability of fishing communities. Historically, banks and credit unions have been mostly unwilling to provide loans to commercial fishermen due to the potential for marginal profits and the general unpredictability of the fishing industry representing a higher risk of supporting fishing communities through loans. The CFF model is unique in that is allows fishermen to use fishing boats, permits and Pacific groundfish quota as collateral. This allows for the use of a powerful new asset that can be securitized in order to access capital supporting both environmental and economic benefits.
The following are example uses of loan funds:
Vessel purchase

Vessel/gear upgrades

Purchase of fishing permits

Working capital

Non-vessel equipment

Dockside infrastructure

Purchase or lease of Pacific groundfish quota
Since its initiation a decade ago, the Fund has revolved 1.4 times and provided 38 loans to 27 borrowers. Loan amounts have ranged from $10,000 to $300,000, with an average approved loan amount of $128,000. In total, CFF has loaned $4.8 million to California fishing communities. Please visit the California Fisheries Fund website for more information and contact the Northern California Community Loan Fund if you are interested in applying for a loan.
Project Timeline:   May 2018 – May 2031 (Northern California Community Loan Fund)
                                  October 2007 – May 2018 (Environmental Defense Fund)
Grant Amount:     $1,356,198 (January 2018 reauthorization)
                                  $2,000,000 (March 2007 authorization)
Funding Source:   Proposition 84
Background
California Ocean Protection Act (COPA) states that monies deposited in the Ocean Protection Trust Fund may be expended to foster sustainable fisheries through "the creation of revolving loan programs for the purpose of implementing sustainable fishery projects" (COPA Section 35650 (b)(C)(v)). The California Fisheries Fund directly fulfills this purpose.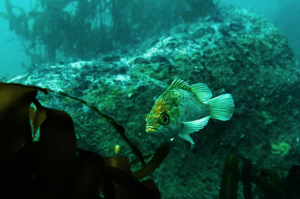 Kelp Rockfish (Michael Job)
About the CFF Administrator: the Northern California Community Loan Fund (NCCLF):
NCCLF is a Community Development Financial Institution (CDFI) whose mission is to promote economic justice and alleviate poverty by increasing the financial resilience and sustainability of community-based nonprofits and enterprises. NCCLF is advancing a food lending program to bring grocery stores, markets and other innovative forms of healthy food retail and distribution, and to establish and support sustainable local food systems, to communities that do not have them.
Relevant Links