Ocean Acidification
Ocean acidification and hypoxia, two phenomena often coupled for a variety of biological and oceanographic reasons, have the potential for profound impacts on living marine resources. Scientists have already demonstrated serious impacts on shell-building organisms, among others, and severe effects on the shellfish industry have been documented in the Pacific Northwest. In California, resource managers, stakeholders, tribes and citizens are beginning to express concerns about these emerging threats to local ecosystems, communities, and coastal economies.
Ocean acidification is a global carbon dioxide (CO2) issue, but as we work to reduce global emissions and factor oceans into the global climate change discussion, we must also focus on reducing the local sources of carbon in the water. Local sources of carbon dioxide, such as runoff which cause algal blooms that tend to increase CO2 in the water over time, do not cause ocean acidification, but can make a bad day worse. This is especially true in coastal waters, like bays and estuaries. Because of the simultaneous and varied pathways to pursue to better understand and combat ocean acidification, OPC is taking action in the state, across the region, and internationally, and our work on ocean acidification cuts across many of our other initiatives.
OPC's Ocean Acidification and Hypoxia program seeks to protect ecological and coastal communities from changing ocean conditions by improving understanding of how a changing climate will alter California's ocean and coastal ecosystems, identifying opportunities for actions, increasing public awareness, and building sustained support for this problem.
How do we do this?
Click on each strategy to learn more
Funding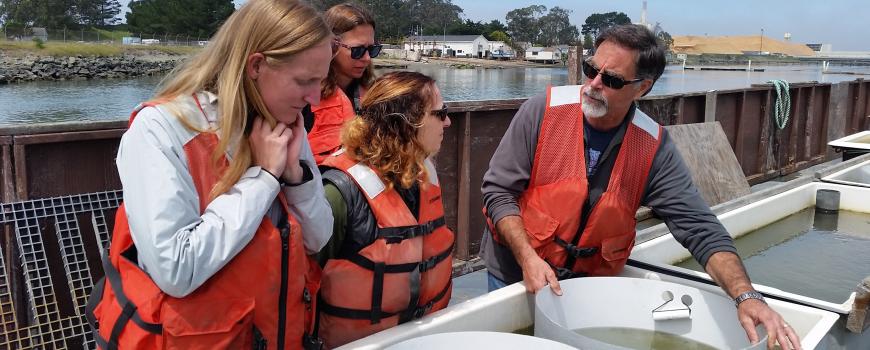 Currently Funded Ocean Acidification and Hypoxia Projects:
Current Funding Opportunities
Please check out current funding opportunities from the Ocean Protection Council here